You know, I told
Christy
that I gave the newest episode of The Bachelor less than a minute into the show before they had Jake's shirt off. You may remember me telling you last week that Jake hates only one thing: those horrid restrictive things called "shirts":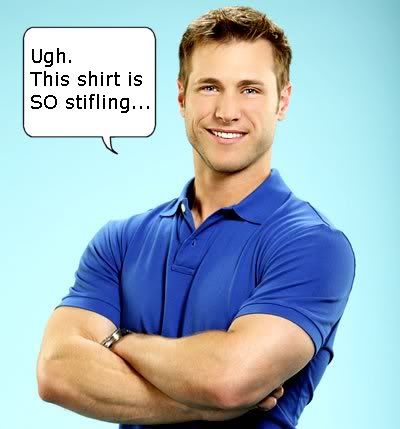 But I was wrong. It took them all of 10 seconds to get his shirt off. Totally underestimated ABC! D'oh!
So here we are, episode 2 of the Bachelor and these girls are already going off the deep end. Seriously. If they aren't talking about how "stacked" Jake is (can boys be stacked?) they're rambling about how they are the only one for Jake and the rest of the girls can't begin to be right for him. Geez louise, it's like a Glenn Close a la Fatal Attraction convention is in town...
Chris Harrison (whose shirt matches the wall color, seriously who the heck dresses these people?!) tells the girls there will be 2 group dates, 1 one on one date and 2 girls will get no date at all. (Spoiler alert: Kooky Nut Michelle from my last post and sweet as kittens Tenley do not get dates. I'm assuming it's because Jake pointed and said, "Girl I definitely ain't pickin'" and "Girl I wanna marry." I'll leave you to guess which is which.)
The first group date goes to Gia, Valisha, Christina, Ashleigh, some other girl - I think they said Corrie or something like that (no wait, is it Ella?) and Rozlyn, who has scary music behind her every time they show her. Scandal a brewin' perhaps??? Hmmmm...they are going to a lot of trouble to make her look like "she's here for the wrong reasons". Well, let's put that on the back burner as we watch the ladies take part in an In Style photoshoot.
Blah blah blah "I want one on one time" "I want the date rose" yadayadayada drama llama ding dong, Rozlyn gets the rose on this date yet the scary dramatic music keeps getting louder and more frightening...what could be going on?!?!
Blond #25 Ali gets the one on one date. Jake takes her flying. Wait a minute...What's that music I hear? Oh no...please God no...please don't let them play...
the song
...They can't make me listen....I won't!!!!
Oh yes they played it, those cheesy so and so's...I think what made this scene more nauseating was when Ali said, "For me, that plane taking off was our relationship taking off..." I am not making this up folks...excuse me....
*barf*
Okay, I'm back. Anyway, Ali and Jake have dinner, she gets a rose and then they are given a private concert by Chicago...um, Chicago...really? Does she even know who they are? Wait, Chicago's still together? Bah.
Last group date goes to the leftovers: Elizabeth, Jessie, Kathryn, Vienna (I'm assuming her parents really liked those little sausages) and Ashley. They go to Six Flags and during her one on one time, Elizabeth reads a note to Jake that she wrote him. First of all, a note...really? Second of all, why don't you let him read it himself? I was so hoping it would include a "Do you like me? Check yes or no" section but alas it was Elizabeth informing Jake that he could not kiss her. Period. Um...okay. Listen sweetie, I am so down with people that actually have standards, morals and respect for their bodies and intimate moments. I just don't usually see those people on reality dating shows. Now normally, this whole thing scares Bachelors away but not our Boy Scout Jake! Oh no, he LOVES it and gives her the date rose. Well, okay. I have never cared for her but I guess she's okay.
So the rest of the girls are sent back to the hen house and Elizabeth and Jake enjoy some alone time which is useless since she's refusing to make out with him. Now, that I have no problem with HOWEVER she spends most of their time saying to Jake (insert sexy voice here), "Do you want to kiss me? Cause I
soooo
want to kiss you..."
DUDE! Girl Rule #1 is it's your body, don't let nobody do nothing to it you don't want. But Girl Rule #2 is IF YOU SAY NO YOU ARE NOT ALLOWED TO THEN TEASE THEM ABOUT WANTING TO DO WHAT YOU JUST SAID THEY COULDN'T DO. d-u-h She also says, "I'm playing hard to get because that's what I deserve". Then don't go on a reality show where you're
competing
for a guy you moron! That's it, Elizabeth needs to go...gross...
Holy crap y'all...I've still got an hour to go in this episode! There's only the rose ceremony left so what could take an hour? He's making his rounds...girls are starting to break down, but that shouldn't take an hour? Wait a minute...the scary music...Rozlyn's scary music...do you think??? Nah...no way! Never gonna happen...
dun dun DUN!
Long story short, Rozlyn entered into an "inappropriate relationship" with a show staff member and was asked to leave and the staff member was fired. Weirdsville. The whole thing is weird and I'll be interested to see what Chris Harrison's blog says tomorrow as most reports are saying nothing happened and ABC is manufacturing the whole thing. Jake asks to be present when Chris tells the other girls. Rozlyn stays pretty much silent as she packs and hits the road.
Geez, we still have the rose ceremony to get through...
Chris tells the girls about Rozlyn, shock and amazement from the girls (and one of the girls starts crying, what the heck is that about?), now on to the rose ceremony! Please!!!
Finally!
Roses go to: Vienna (Sausages for the win!), Gia (swimsuit model, no surprise there), Tenley (awww, sweet as kittens!), Ella (the single mom sure Jake is destined to be her step-baby daddy), Valisha (I have no idea who she is, where has she been all this time?), Corrie (there is a Corrie! Did I spell her name right? Ah, whatever), Jessie (I think that's her name), Ashleigh (of the teeny bikini), MICHELLE?! COME ON JAKE YOU'VE GOT TO BE KIDDING ME! *ahem* and the last rose goes to Kathryn.
No roses for Ashley and Christina...Ashley handles it pretty well but Christina cries and gives the whole "there's girls that are not here for the right reasons" reject speech. So long Ashley and Christina! Good luck with your sad, lonely lives as you will never meet a man as perfect as Jake. Nah, just kidding though I am surprised by his choices...
The previews for next week predict even more drama so stay tuned as we embark on "this journey" together!
Are you watching The Bachelor? What are your thoughts?