Hi everyone!
Wow, that week went quick! lol Sorry about my absence this week, I have to say that I've been taking a little "me" time, working out more and getting my hooks into some yarn but I have missed visiting with you all and hope to catch up soon! My blog anniversary is coming up next week so I'm feverishly trying to make something to give away! :D
But before that let's get it on with this week's Friday Night Fab Five! Here we go:
1. Crochet Hooks
Picture from Sweet Nienna
Last week it was yarn, this week it's all about the hooks. I l-o-v-e a new crochet hook. It glides right through the yarn and it's all slick and smooth. Plus the aluminum ones clink and clank together and make fun tinkle-y noises.
2. Shristi Studio
Shirsti Studio
on Etsy specializes in reproduction vintage dresses and I love them! Plus, the prices are insanely good. This is on my short list of "must haves".
3. Cute Tweezers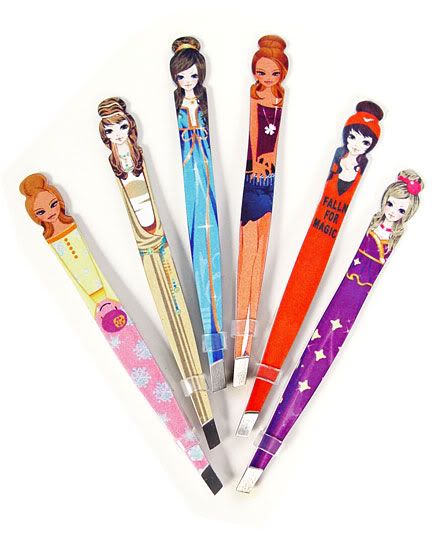 Listen, if you're going to be yanking hairs out of your face, it might as well be with cutesy girly tweezers from
Plasticland
.
4. The Bachelor
I know it may sound like I hate this show if you go by my episode recaps but that couldn't be further from the truth. Whether or not anyone "finds love", this show is pure entertainment and the top of my Reality TV list. And I have to thank you all for your positive comments on my recaps. I so enjoy writing them and love the thought that someone out there likes reading them. :)
5. Kawaii Not
I first met
Kawaii Not
, the book by the enormously talented Meghan Murphy and then discovered her site with newly updated "cute gone bad" comics. They are funny, they are cute and they are definitely gone wrong. Just like me. :P
And that's that for this week's Friday Night Fab Five!
What are your favorites this week???