First off, just so y'all won't think I haven't been getting my creativity on lately, a sneak peek on what I've been working on that is taking me F-O-R-E-V-E-R to complete:
Hello everyone and welcome to another Friday Night Fab Five where I list 5 things that I think are fabulous this week. This week is all about the random and I am the Queen of Random!
Without further ado:

1. Assets by Sara Blakely
Sara Blakely is the creator of Spanx and Assets is her more affordable line sold in Target stores. If you are looking for a body shaper you can wear outside of the wedding or fancy party, get this one! It's comfortable and doesn't give you that thigh bulge. I really love how it smooths everything out and my hubby noticed a difference before I even told him I had it on!

2. Coffee Mate Pumpkin Spice Creamer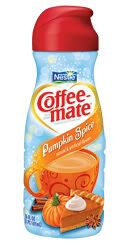 The coming of Fall means many things to many people but for me it means that the fancy seasonal creamers will be hitting stores and hitting my coffee, woo hoo! I love anything pumpkin and I could drink this creamer right out of the bottle...but I don't. I swear...
3. My New Autumn String Lights
I have this shelf in my kitchen that has these metal string lights with butterflies and dragonflies on them. I added some ivy and then the shelf above has birdhouses and whatnots. During Christmas, I take all of this down and decorate with my little 70's plastic village houses, lights and ornaments. Here it is normally:
But what about Autumn?! And then, once again, Target came through for me and provided something I wasn't aware I was looking for until I saw it: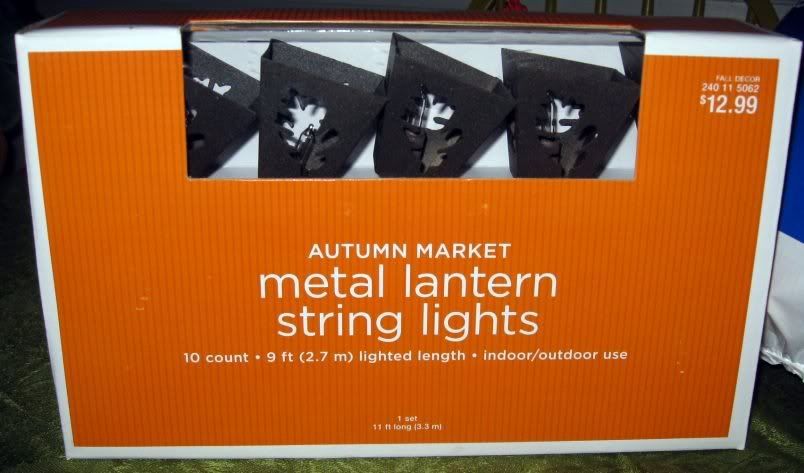 How perfect are these to go under my little shelf?! (You may not be able to tell from the picture but the cut out is a leaf) So I got these lights and some Autumn leaf garland and I'm going to redo this shelf for Fall, woo hoo! come to think of it, I'm a big advocate of twinkle fairy lights in your house year round period. If you're looking for a cheap way to add some sparkle and magic to your rooms, add some fairy lights! Trust me...
4. My New Hat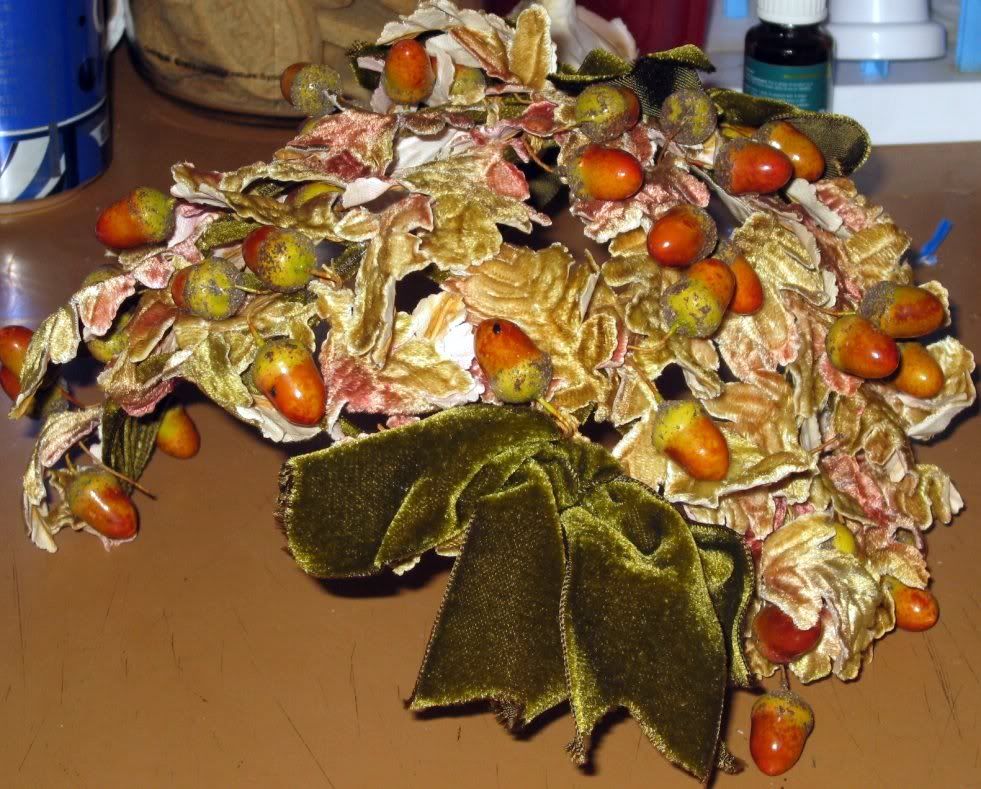 My husband can blame
Jessica
for this one. I was innocently reading
this post
on her blog when I was attacked by the cutest little Fall hat you ever did see! So of course the only logical thing to do was to rush over to Etsy and buy it. I couldn't let anyone else have, could I?
5. Happy Mail
I have been so lucky to receive some fabulous happy mail in the past couple of days! The first was a prize I had won from
Y
and she added some extra fun stuff, awesome! Thanks Y!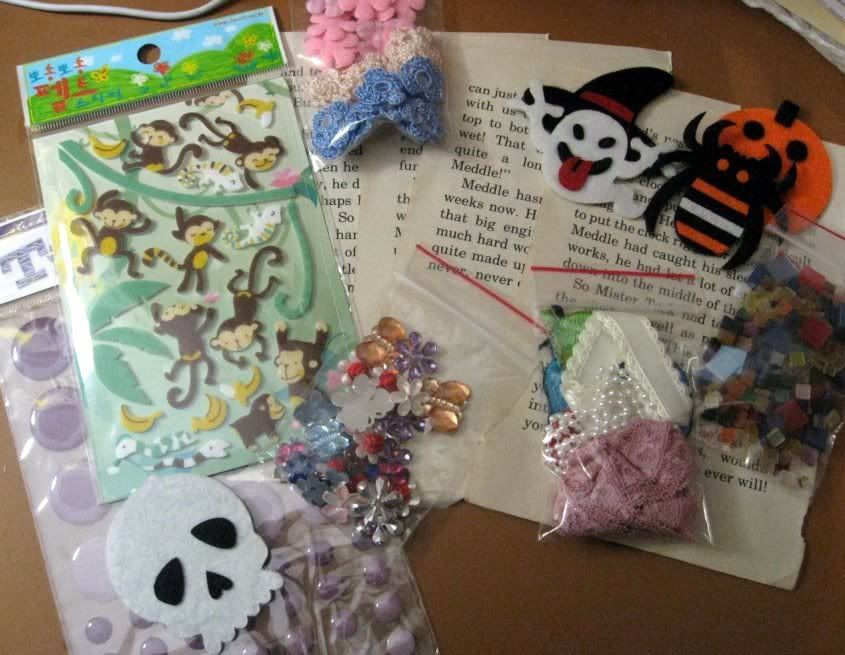 Then I got some awesome pictures from
Julie
! She had a bunch of family pics, specifically school pics that she thought I might have fun using in my artsy things and she was right...these school pics and fun postcards will be glued onto something ASAP. Thanks Julie!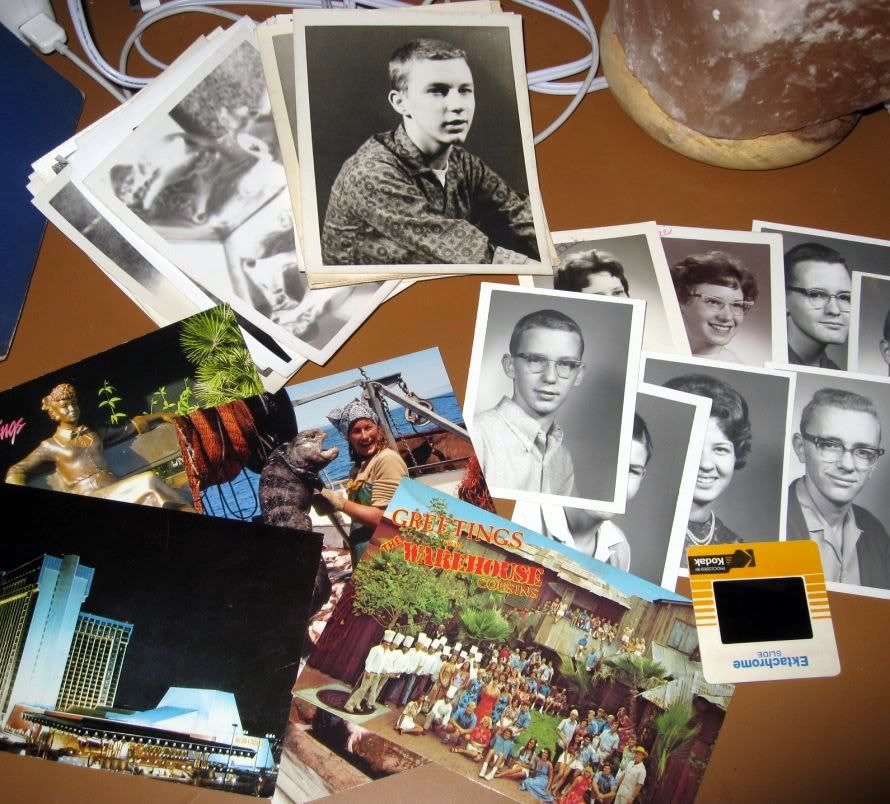 And then my fantastic
Callista
! First she posted about my birthday on her blog and then she sent me the most fun birthday surprises! A beautiful ring and matching hair pin (which she MADE!), some teas to try out (she knows I am so helpless when it comes to tea!), a handmade birthday and Halloween card, a fun little magnet AND a 1950's vintage apron her great aunt made to wear at cocktail parties! Wowowowowowow, instant love! Thanks Callista! (And that apron will be making a reappearance once I stop being lazy and take pics of me wearing my vintage dresses! :)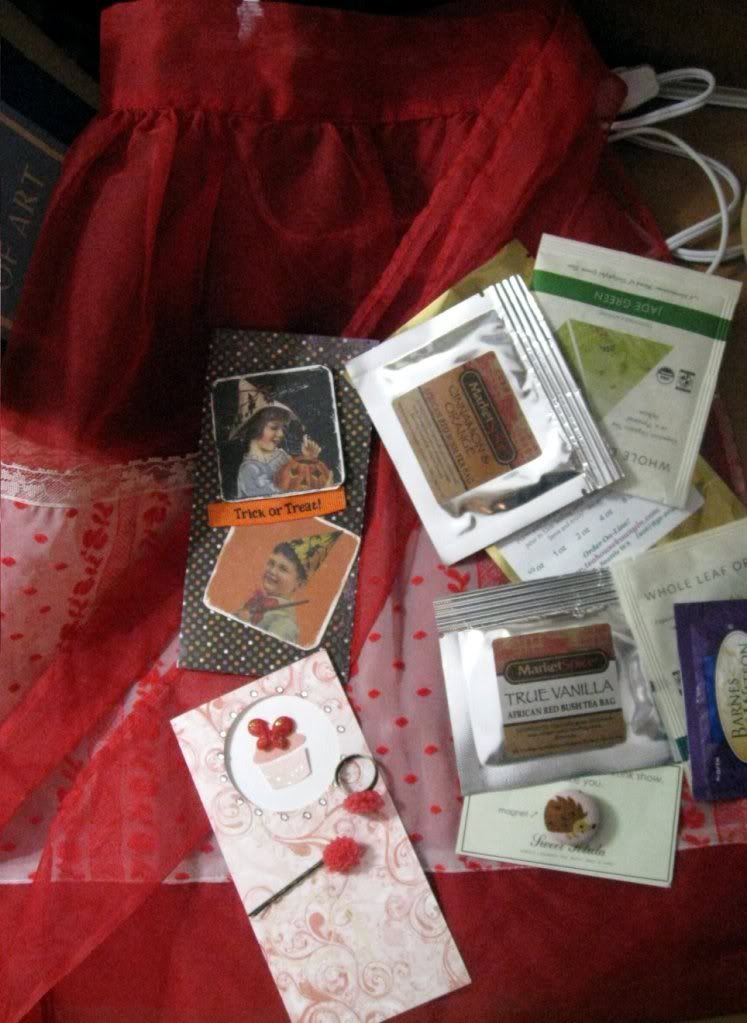 Speaking of happy mail, I am seriously considering hosting a Secret Santa swap here on the blog. I know that a lot of us visit the same blogs and I thought that exchanging things and surprising someone with some happy mail would be a lot of fun! I'm thinking of doing one that's crafty and one that's not so that everyone will feel welcomed to participate...plus with the ideas I have, it wouldn't cost anything but postage...hmm.....must think more....
Have a great weekend everyone!