Thanks so much for all of the fabulous birthday wishes everyone! I so appreciate it! I've actually been sick the past couple of days which has slowed me down a little (boo! hiss!) but we're getting back on track! I have so many things I want to tell you about (new projects, my day at the Renaissance Faire, Toot's birthday, major happy mail)! I wish I had a project to show you but I'm currently crocheting some different things and crochet does not lend itself to instant gratification (again: boo! hiss!) lol. So instead I have some news from here and there from people getting more accomplished than I:
1.
Life Preservers Scrapbook Club
is having an online crop this weekend and it's sure to be amazingly fun if the previous crops are any indication. LPS is my online scrappy home and I do hope you'll consider joining us this weekend! We have a lot of fun and the LPS gals are really awesome (read: 100% drama free).
2. There's a new challenge blog on the horizon and this one looks like lots of inspirational fun! It's brought to you by the super Julie and it's called
Play Date Cafe Challenge
. These are color based challenges with prizes and different hosts every week and it's sure to be a blast so check it out!
3. I took Toot to get her picture taken today to mark her turning 1 year old. I was going to pass but just couldn't stand not getting something professionally taken, I'm such a sap. By the way, did I tell you I caught her eating cat food the other day? Fantastic...
Anyhoo, I won't bore you with them all but here are my two favorite shots: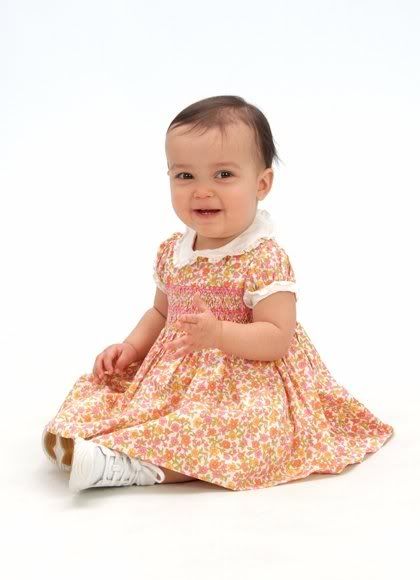 In other Toot news, I entered her in the Baby Gap casting call and I was going to post a link for you all to see but their site is 100% craptacularly s...l...o...w so I figure I like y'all too much to torture you with the site so...just wish her luck! lol
EDIT: their site seems to be moving faster now, you can see Toot's pics
HERE
and vote for her too if you wish :D
EDIT II: 4. I forgot to bring up
National Novel Writing Month
! Anyone feel like writing a novel next month? I think I'm going to go for it! Check out the details
HERE
!
Let's see...was there anything else? I just know I'll hit publish and then think of 100 more things I meant to tell you! Grrr...Oh well! If I do, I'll be back!
Happy Thursday everyone! :D