So my post entitled
"Where Were These Hotties When I Was Single?"
led my favorite smiley user
Julie
to think that my post was going to be about mantastic actors from the 40's-50's. Unfortunately, as most of you saw, the title was referring to decidedly non-mantastic man-boys trying to find love through the medium of 80's video dating. *shudder*
I have been wanting to do a Fab Five of Hollywood actors, after all I've already done
one on my five favorite actresses of the Golden Age
so it stands to reason that the boys should follow. So thank you Julie for the kick in the butt and this one's for you! (And me because these actors are whoa baby woo hoo!)
1. Cary Grant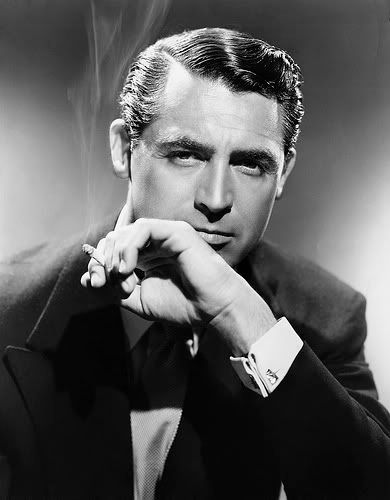 (Image courtesy of Rebel Without A Cause)
Grant was all man and then some. Although I'm not sure he'd be quite so dashing had he kept his birth name: Archibald Alexander Leach...nah, he'd still be tops for me! As a matter of fact, although he came to Hollywood with the first name "Cary" the studio was less thrilled with his chosen last name "Lockwood". It was decided he would instead use the name "Grant" because the initials "C" and "G" seemed to work for Clark Gable and Gary Cooper. (
Wikipedia
)
He was also the one to introduce Esther Williams to the wonders of LSD. Williams had heard about his successful treatment with the drug (then legal and prescribed by a doctor) and went to him for a referral. She also had successful results using the drug, which she claimed helped her come to terms with painful events in her past.
2. Sidney Poitier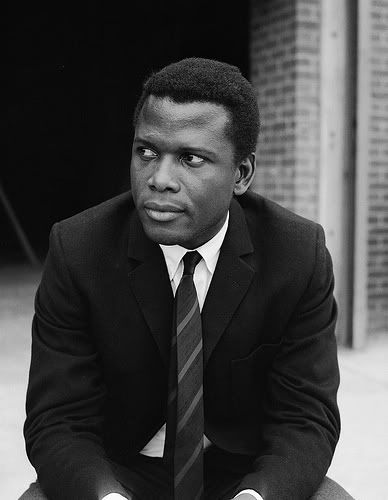 (Image courtesy of Music2MyEars)
If you don't think Poitier is gorgeous, you need to go watch "To Sir With Love" right now! (Actually, any of his movies really) Go on, we'll wait...
Poitier was raised in the Bahamas although he was born in Florida quite by accident. His parents were in Miami selling produce from their farm and he came prematurely. Although "To Sir, With Love" is my favorite Poitier film, any movie from his extensive filmography is worth seeing. He became the first black actor to ever be nominated for an Academy award ("The Defiant Ones", 1958) and was the first black actor to receive an Academy award for his work in "Lilies of the Field" in 1963. (
Wikipedia
)
3. Jimmy Stewart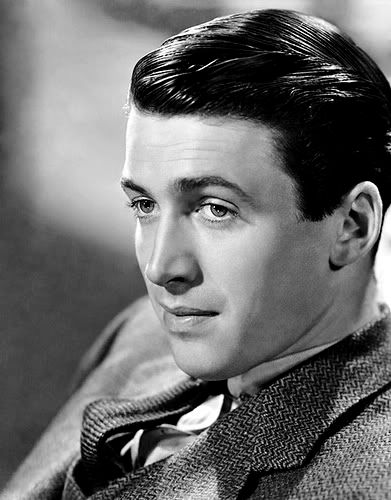 (Image courtesy of EmMe09)
Jimmy Stewart is not the first name to come to mind when you think of "hotties" and MGM had no idea what to do with him since he wasn't a "Gable" or "Grant". Ironically it was his shy, quiet, steadfast unplayboyish demeanor that drove the women of Hollywood wild including Marlene Dietrich, who he turned down (although her biography tells a different tale). I personally think he was a doll and still tear up all during "It's A Wonderful Life" (which was a bomb at the box office but it's showing years later to a whole new generation gave his career a much needed rebirth). He was best friends with Henry Fonda despite their polar opposite political beliefs and his "first" was none other than the fabulous Ginger Rogers.
4. Gene Kelly
(Image courtesy of EmMe09)
Gene Kelly...singer, dancer, actor and I know not what. And devilishly handsome in my opinion. He wanted to bring ballet to Hollywood and make it commercially acceptable and successful. He is best known for his work on the amazing film
Xanadu
. Okay, that's not true. (Although that's one of my favorites!) He of course is most well known for his work in "Singing in the Rain" and it's interesting to note that during the shooting of the actual "Singing in the Rain" musical number, the studio "rain" would be interrupted by surrounding neighborhoods using their lawn sprinklers and holes were dug in the floor to create the puddles Kelly stomps during the number.
Years ago I watched a documentary on Gene Kelly and I'll remember one particular bit for as long as I live. The interviewees were discussing Gene Kelly and Fred Astaire and one of them said this:
"You'd give your heart to Fred Astaire, but save your body for Gene Kelly"
I absolutely love this quote. Speaking of which...
5. Fred Astaire
(Image courtesy of danceonair1986)
Another that may never make the general public's top 100 boy toys but come on, look at him! He was debonair, dashing, distinguished and all of those other D words used to describe handsome men. Like Kelly he was multi-talented though not everyone thought so--->From
Wikipedia
: "According to Hollywood folklore, a screen test report on Astaire for RKO Pictures, now lost along with the test, is reported to have read: "Can't sing. Can't act. Balding. Can dance a little." But the man sure could work a suit...
And there you have it! My Fab Five (though not my only favorites which also include a large number of present day actors) for this week! Who are your favorite actors, past and/or present?
Before I sign off, I wanted to let you all know that I am now on Twitter and you can follow me by clicking
HERE
. And if you are on Twitter, please let me know so I can stalk...uh, I mean follow you!
Have a great weekend everyone!