Over at
Life Preservers
, a few of the ladies and I are getting ready to start a Circle Journal. For those that don't know, a Circle Journal is when you pick a theme and start an album (as does everyone else in the circle), then you pass each others' albums around and everyone in the circle creates and adds pages to them. You get yours back and it's full of fabulous pages for you to enjoy, woo hoo!
My theme is called, "The Art In Me". I've asked the ladies to create a layout utilizing their favorite techniques, tools, paper or embellishments. They can add pictures of their scrap spaces or what inspires them (or no pictures at all!). I'm really hoping that they'll feel this is a creative theme, I'm excited to see their scrapping style up close after seeing it online!
So far, I've made the instruction page and the sign in page for my journal. In a Circle Journal, the sign in page acts as a table of contents of sorts and is another way for everyone to use their creative abilities. I've decided to make some blank tags and have them decorate them in any way they wish. Here's what I ended up with:


Here's my instruction page: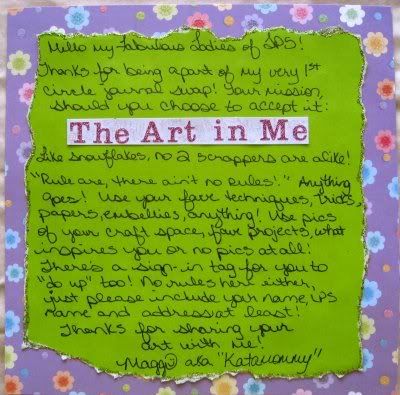 I'm excited to get this mailed! I've just got to do my own layout for my journal and it will be ready to go! Everyone has picked great themes from marriage advice and favorite quotes to "What I Love About Me" (I'm going to struggle with that one) and favorite vacation. I can't wait to get my first journal to work in, here's hoping my first Circle Journal goes smoothly!