A few days ago I noticed that I had a lot of scraps of paper left over from various layouts and I couldn't really do anything with them. In the end, I decided to use my handy punches and make flowers. Here's what I got out of all of my paper scraps:
As you can see, I had my work cut out for me. I couldn't believe how many flower petals I got out of scraps I would normally end up throwing away. So on to putting everything together and voila:
I distressed a lot of edges with various colors of Fluid Chalk and some I accented with Stickles (okay, most).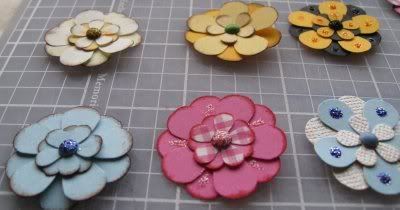 Keep on rolling,
Katamommy