EDIT: for the love of Pete y'all. I totally thought today was Friday and posted this today instead of tomorrow. Holy crap. Well, here's a treat for you then I guess! LOLOLOL Enjoy! :D
*********************************
Happy Friday everyone and welcome to another Friday Night Fab Five where I list 5 things I'm currently obsessed with, adore or otherwise am in love with. As I was thinking about what 5 things I would feature this week, I started thinking about my childhood and what I loved then (then being the 1980's). So this week's Friday Night Fab Five are five things I loved in the 80's. As I was writing this, it occurred to me that I was waaaaay too young at the time to like some of these things so keep in mind that the dates are when these first came out but I didn't catch on until a couple of years after. :P
1. 1985 - North and South
(Image from TVguide.com)

The story of two unlikely friends, one fighting for the South and one fighting for the North during the Civil War, the North and South miniseries had everything, including every star past and present known to man. And yes, I was WAY too young to be watching it. I remember sneaking behind my parents back to watch parts of it. lol
2. 1988 - Breathe "How Can I Fall?"
Breathe was a British band and they were full on 80's. I cannot begin to tell you how much my friend and I wore out this cassette tape (yes, cassette tape). This song and "Hands to Heaven"...holy cow, we scarfed down this sugary sweet love song junk by the barrel full.
3. 1989 - Dead Poet's Society
(Image from Amazon.com)


Oh boy, did me and my friends think we were deep thinkers after seeing this movie! lol Oh the drama of it all! Actually, this is still a good movie. I should watch it tonight. Anyway, we so thought we were the next big poets after seeing this. I guess there are worse things to get out of a movie, eh?
4. 1985-ish - Coca-Cola Clothes
(Image from In The 80s)
Yeah baby! I totally had one of these shirts and I thought I was so rad! The best part? I wore it with the collar flipped up. Awesome!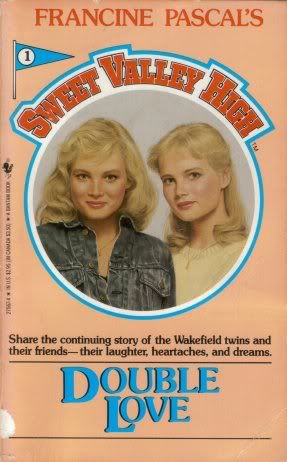 (Image from Shannon's Sweet Valley High Blog)
I started reading this series later in the 80s but boy oh boy was I disappointed in the 90s when I got to high school and realized that not only was it nothing like these books, it was also nothing like it was in Beverly Hills 90210. What a letdown! Reading these now though...yikes, these books stink. LOL In fact, if you want to read some hilarious recaps of
every
SVH book, you have to check out
Shannon's Sweet Valley high Blog
So that's it for another Friday Night Fab Five!
What are you favorite things this week? Or better yet, what were you're favorite things back then? :D
We are having house guests this weekend so I will be scarce but I will see you Monday after the Bachelor finale! Now just what will I do with myself when it's all over?! *sob*
Happy weekend everyone!