Hey everyone!
Before we get started I wanted to explain the edit I made to my post last night. My best friend of about 22 years has a son who suffered a brain injury when he was just a few months old, his name is Zachary. The result of that injury is a severe mental disability. Luckily, Zachary has started attending an awesome school for special needs kids and his teacher, Shannon Moree is a wonderful person. She has entered a contest to win a flip video camera for the class which she hopes to use as a tool to show parents how their kids are doing during the school day and other school projects.
The winner is chosen by votes and the highest number of votes wins the camera. We would SO appreciate if you would take a sec to vote for her (she is currently in 4th place as of this posting)! You don't have to sign up for anything or "log in", you only need your name and e-mail address. They do not mail you anything but votes are counted by valid e-mail addresses only.
And guess what, if you have more than one e-mail address, you can use them all!
Woo hoo! LOL Doesn't matter where you are and every vote counts.
Please
CLICK HERE
and then click on the name "Shannon Moree" in the right hand side bar to vote for her. I would so appreciate it and I know Zach and the entire class would get so much use out of the camera! Here's a pic of my friend and Zach: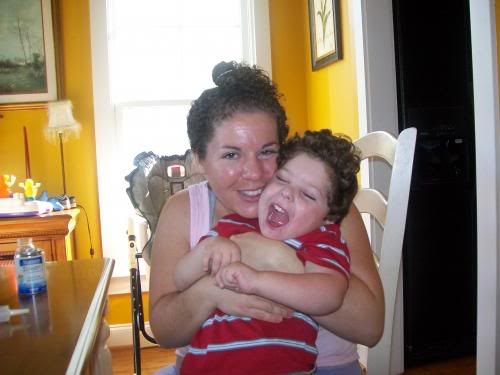 Thanks guys!
Now for my newest project:
On one of my trips to
Sleepy Poet
, I found this scrapbook. It was empty and had pages torn out of it which made it the perfect blank journal for me to cover in glitter and generally glue stuff all over it. lol
I've had it on a shelf for a while because I wasn't sure what I wanted to do with it but then one day the spine caught my eye:
Wow,
My
Book? Hmmmm...okay then, new art journal all about me! lol So I started with the cover page which is always my favorite page to work on of any scrapbook/journal/diary type book I have.
I adored Pee-Wee Herman when I was a kid, plus I'm currently going through a "Who am I? What am I? Huh?" phase so the title "I know you are but what am I?" seemed perfect. :D I used some more of my trusty sewing patterns for the background along with a little white paint. Some of the embellishments are from Gauche Alchemy's Pink Parts mixed media kit and the puzzle pieces are real pieces I just covered in origami paper.
I'm currently trying to think of other things to include in "My Book".
Do you have a book or journal about yourself? Any ideas or suggestions about what I could add?