Heads Up!--->
Drop Dead Cute
is having a (dare I say it) cute (yep, I said it) giveaway on her blog. A super awesome Momorobo Panda Hat from
Punch Brand
is up for grabs so head on over to
her giveaway post
and enter!
**************************
Did you know that
"Artistic Inspiration" has its own entry in Wikipedia
?
"Inspiration refers to an unconscious burst of creativity in an literary, musical, or other artistic endeavour. Literally, the word means "breathed upon," and it has its origins in both Hellenism and Hebraism."
-Wikipedia
I'm always fascinated to learn what inspires people, particularly creative people. There's the typical answer of "family, friends" yada yada yada. But what really lights that spark of creative activity, the one where you feel like if you don't get it down (paint it, draw it, write it, scrap it, sew it, glue it) you'll explode?
Lately I have found myself drawn to and inspired by Jpop and Japanese street fashion. (*Fingers crossed* you'll be able to see this influence in my next project that I will hopefully get posted soon!) Jpop is pop music from Japan which is funny because as a rule I don't like pop music. lol But recently I've been playing it around the house and it is simply infectious. Here is a song from the group "Girl Next Door":
"The term 'street fashion' is used to describe fashion where the wearer personally customizes the outfits by adopting a mixture of current and traditional trends."
-Wikipedia
Japanese street fashion
is a treasure trove of inspiration all its own. Such a bold out-of-the-box mix of styles, colors, textiles, eras - you name it. How can you not be inspired by such a grand example of creative abandon?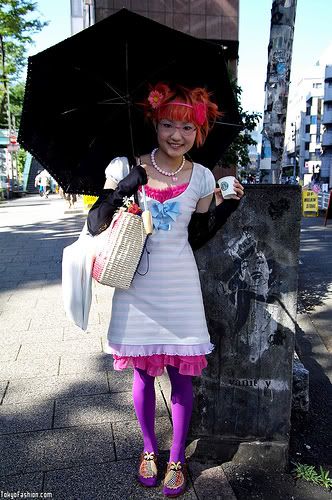 All pictures from tokyofashion.com
No matter what the art form or tools used, I hope that I can always strive to create without fear of what people will think and become comfortable in resting in that creative space where there are no hard and fast rules of what works. I want to be like those on the fashionable streets of Tokyo, wearing my artistic sensibilities on my sleeve (so to speak) and reveling in my creative freedom.
The possibilities my friends...are endless!!!
What has inspired you lately?