Hmmmm...I think I've used this title before...
Anyhoo, y'all just strap yourselves in cause this post is going to be all over the place! I'm tired and getting a little loopy so there's no telling what will happen in the next few paragraphs. You've been warned...
Creatively speaking, I do have some things going on behind the scenes here but what I've been working on isn't something I can share quite yet. I'm hoping it can be something I can actually sell so I've got to figure all that out before I say anything.
I also have to apologize for not getting around to all of your fabulous blogs lately like I used to, I have just been going through it lately and I honestly have been trying to keep up with everything!
So y'all ready? Alright, here we go!
First of all, the fabulous Jessica from
Chronically Vintage
awarded me (yes, me) the Over the Top award.
Now just what is so over the top about my blog pray tell? Hmmmm, actually I guess that is me, eh? Anyhoo, now I get to delight you all with a plethora of one word answers (I'm suppose to only use one word answers so we'll see how this works...) so here we go!
1. Where is your cell phone?
Beside Me...wait, that's two words. Crap, now it's 6 words. Crap!
2. Your hair?
Brown
3. Your mother?
Short
4. Your father?
Funny
5. Your favorite food?
Chocolate
6. Your dream last night?
I dreamed I was in an English village and one of the dancers got sick and I had to fill in and did an Irish dance. Why I was doing an Irish dance in England I don't know but I was awesome. (Final Word Count: 42? I lost count.)
7. Your favorite drink?
Diet Coke (Now how can I make that one word?!)
8. Your dream/goal?
To answer the rest of these questions with only one word answers. Wait...crap!
9. What room are you in?
Den
(Ha! That's just one word!)
10. Your hobby?
Answering tag/award questions with one word answers.
11. Your fear?
That I'll never answer a question with just one word.
12. Where do you want to be in 6 years?
Anywhere.
13. Where were you last night?
What are you, a cop?
14. Something that you aren't?
I aren't good at following directions.
15. Muffins?
Uh...pie?
16. Wish list item?
3 wishes, which I would then use to wish for more wishes.
17. Where did you grow up?
Wait, I'm suppose to grow up?
18. Last thing you did?
Typed "Wait, I'm suppose to grow up?"
19. What are you wearing?
None of your beeswax, perv!
20. Your TV?
Yes, it's mine.
21. Your pets?
No, those I stole.
22. Friends?
Love my sarcastic nature...don't you? DON'T YOU?!
23. Your life?
"And it's now or never...I ain't gonna live forever!"
24. Your mood?
Full of much sassafras.
25. Missing someone?
Why? Holy crap, are you in my house?!?!
26. Vehicle?
I wish I could operate my car with my feet like the Flintstones. I bet I could lose a lot of weight doing that...
27. Something you're not wearing?
My heart on my sleeve. Oh wait, no it's there...my mistake!
28. Your favorite store?
Thrift
29. Your favorite color?
Glitter
30. When was the last time you laughed?
A minute ago when I typed, "'Typed "Wait, I'm suppose to grow up?'"
31. Last time you cried?
Right about now...there are a lot of questions here...
32. Your best friend?
Thinks I'm funny.
33. One place that I go to over and over?
Um...I don't know you personally but I'm going to guess you like to go to the dentist.
34. One person who emails me regularly?
Dude, I don't know...um, I'm going to guess your dentist. Is that right?
35. Favorite place to eat?
Sushi *drool* (No, "*drool*" means an action so that doesn't count as a word!)


Thanks for the tag Jessica, I hope you don't mind me having some fun with it. :D Next up, the amazing Roo from
Roo's Treehouse
hit me up with the Honest Scrap award
and now I have to list 10 Things I Hate About You...wait, no I think I'm suppose to put down things about me that you didn't know...or maybe they're suppose to be things you did know...wait...what do I do with this one? Crap, hang on a second, let me go back to Roo's blog...
...
Oh duh, 10 honest things about me. That makes sense I guess. Okay here we go...
*deep breath*
1. There is no way I think I'm going to be able to come up with 10 things for this list.
2. Toot's asleep and I kinda wanna go wake her up just to see her smile.
3. I bet if I went and woke Toot up she'd scream and that would kinda ruin my whole "see her smile" plan.
4. I get frustrated when I can't get something right the first time I try it. Try try again my butt.
5. I figure if it makes me laugh, it will make other people laugh. I'm pretty sure you should all be crying right now from laughing so hard.
6. If you're not laughing right now, please don't tell me. I will get my feelings hurt.
7. I wish I had time to play video games as much as I used to. That part of being a parent sucks.
8. I really have to go to the bathroom but I'm determined to get this post finished first.
9. I'm wondering if anyone is actually reading any of this. Let's find out, all those reading this right now and not just skimming this freakishly long post, include the words "rubber baby buggy bumpers" in your comment. I cannot wait to see what happens with that.
10. Yes! 10 things! In your face blog award!
Thanks so much for including me Roo! I hope I did you proud! :D
And for all of your patience with my sleep starved attempt at comedy, here's your prize, a pictures of Toot. (Aren't you the lucky one?) Here she is with cake up her nose at her birthday party last month: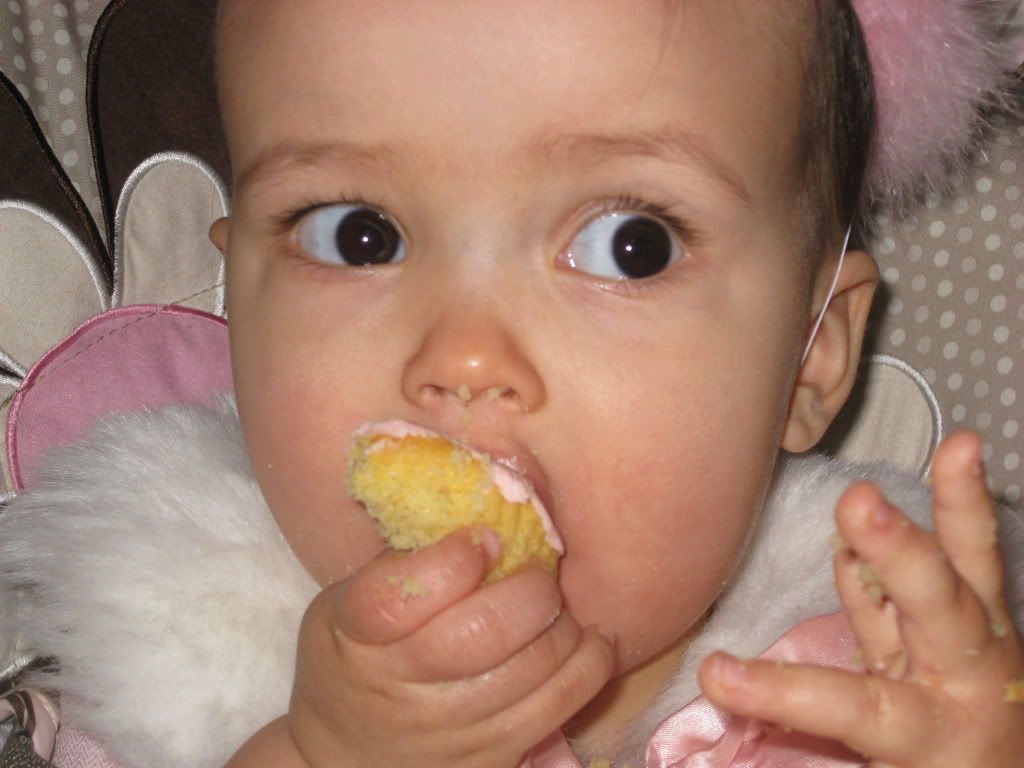 And here she is eating right off of Nana's plate: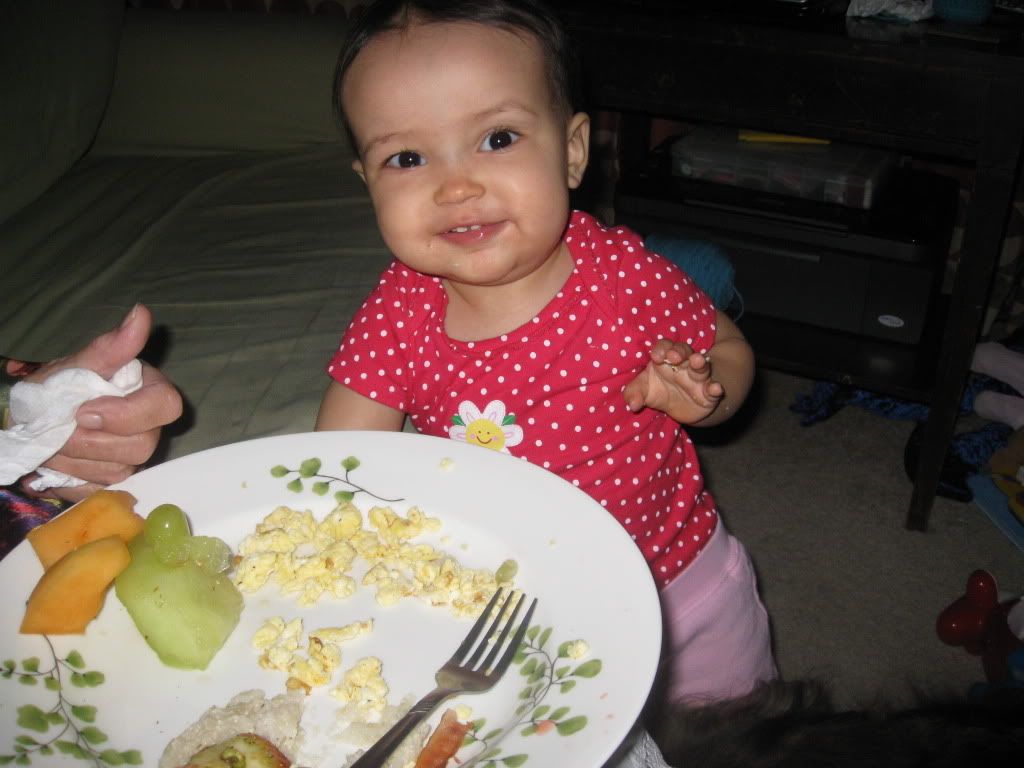 Have a great day everyone!