First of all, a HUGE thank you to all of you that partied with me over the weekend at Vanessa's Halloween bash. There were so many awesome blogs participating, I enjoyed visiting each and every one! I was a little worried when I wrote my post as I wasn't sure everyone would "get" my brand of humor but most seemed to enjoy it so
THANK YOU!
In the end I left around 180 comments and visited over 200 blogs (not all had party posts) so I count it as a success! lol
Next, I'm not sure you if you knew this but 10 days after Toot was born, I was born! All right, 10 days and a few years after. Yes, you guessed it - today I turned 33! Go me! :P
My hubby started the party early last week by getting me a crochet magazine I'd been drooling over and 2 new crochet books. This past Sunday my mom took us to the local Renaissance Faire which we go to every year to celebrate my birthday (pictures to come later, I was lazy :P) and tonight my dad is taking us out to dinner (pizza, oh baby!) AND Toot slept until 7:30 this morning! Woo hoo! lol
I don't have much going on on the ole blog here for my birthday but I do want to share a project that I recently did that displays what my entire life philosophy is based on: a quote. I finished another journal for the
LPS
circle journal and the theme of this one was "Favorite Quote". This is a fun one for me because I quite like my favorite quote, which is from the movie "Harold and Maude". Here are my pages (P.S.-These pics are craptacular, I had to take them at night - boo, hiss!):
And a close up of each side:
So the quote is: "Everyone has the right to make an ass out of themselves, you can't let the world judge you too much." I love love love this quote! If you've never seen the movie "Harold and Maude" I really recommend you check it out. (Cat Stevens did the entire soundtrack for the movie and the music is amazing!) It's all about being who you are, which is a unique individual and to embrace life. Here is a scene where Maude is talking about being unique.
It reminds me of this song that "Happy Monster Band" sings on Playhouse Disney (yes, I went there) it goes,
"I'm someone no one else can be,
I'm different than you, him or he,
I'm happy too as you can see,
Cause I'm the best at being me."
This may seem like a silly kid's song but I wish there was more of this philosophy being taught to our kids than being like celebrities or copying each other. Here's the entire song:
Anyhoo, didn't mean to wax poetic there! Thanks for sharing this day with me and have a cupcake before you go!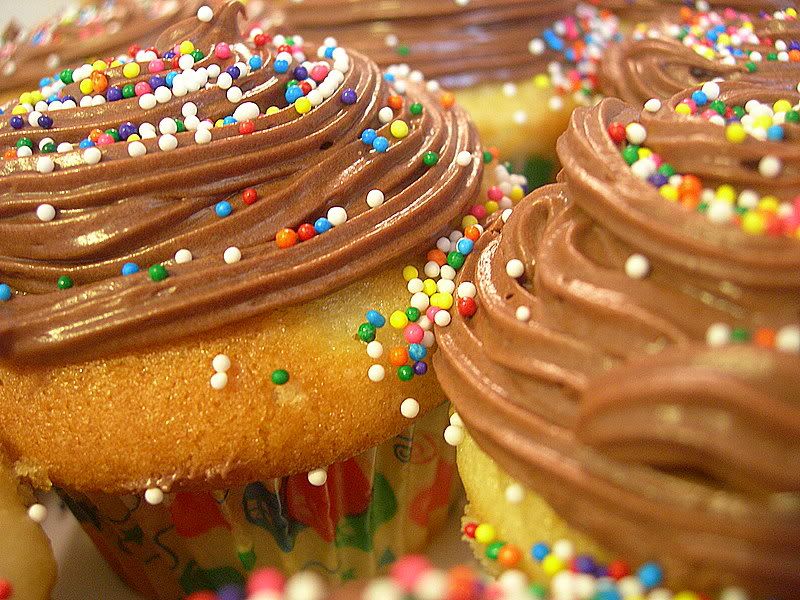 Want to make these cupcakes? Go HERE for the recipe! (and then send me one! ;)
Have a great day everyone!