For our honeymoon we chose to go to Disney World. Neither of us had ever been there and since we act like a couple of kids anyway, this was a perfect choice for us. We had planned on going back for our 1 year anniversary but since I ended up being very pregnant, that trip has been postponed until Toot is old enough to go with us and enjoy her first trip to Disney World. We often talk about that trip and the phrase, "I miss Disney" is often heard around our house.
So I thought that for this week's Fab Five I would pick 5 of my favorite pictures from our honeymoon...
1. Our Favorite Restaurant-Raglan Road
This is an Irish restaurant and pub in Downtown Disney and their food was AWESOME. We ended up going twice while we were there and have told people to check it out whenever they go to Orlando. lol Bangers and Mash...yum!
2. The One Time I Didn't Care That He Wasn't Listening To Me
Chris arranged for us to eat at a character buffet with Winnie the Pooh and friends. I was talking to him (or "at" him apparently) about who-knows-what now but I started to notice that instead of listening to me, he could not quit smiling and watching Tigger, Pooh, Piglet and Eeyore walking around so I took a picture of him to capture that look on his face.
3. Our Picture With A Thousand Strangers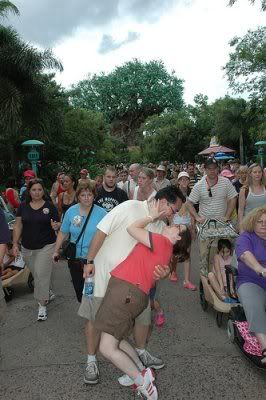 As we were leaving Animal Kingdom, we noticed the Photo Pass photographers standing around so we grabbed one and said, "Hey, can you take our picture with a thousand strangers?" The guy didn't get us until we pointed to the throng of people around us trying to leave the park.
4. Our Favorite Park Snack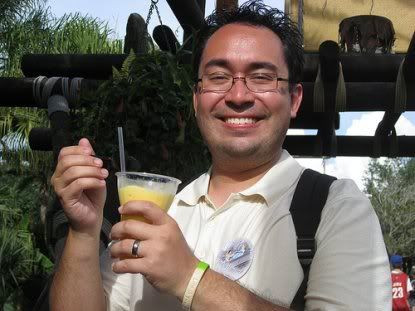 If you have been to Magic Kingdom and haven't gotten a Dole Whip, you're missing out! Pineapple juice over pineapple soft serve....soooo good! I'm drooling now just writing about it.
5. Chris In Hats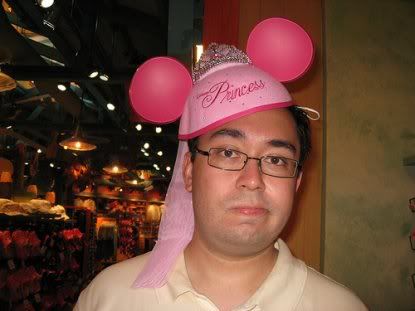 For some reason, putting hats on Chris and taking his picture was hilarious to me. And I think this picture proves me right...
That's it for this week's Friday Night Fab Five. Thanks for indulging me as I make you sit through my metaphorical "vacation slides". LOL Speaking of which, I framed this honeymoon picture of us with Ariel for Toot's room:
But I wasn't really feeling it so I covered it in water patterned paper, tinted craft snow for sand and added some fish and what nots:
Tomorrow night is girl's night here at my house where there will be booze and karaoke galore, yippee! lol Anyone else singing for their supper this weekend?