I've had a few questions about the Tombow Mono Multi Liquid Glue that made my last Friday Night Fab Five and thought I'd try and give a more thorough run down here that I hope helps! First of all, thanks for commenting and asking questions! I don't know you've come by if you don't tell me so! :)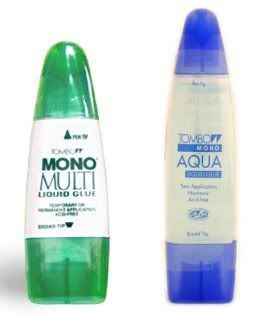 The Tombow Multi comes with two tips, pen and broad. Broad is great for those bigger areas you want to glue. It goes on white and dries clear. Now obviously, as with any glue, if you get too much on the back of your material (paper or thinner materials mostly) it will wrinkle up a little. Which is okay because you really do not need a lot of this glue for it to hold. (I'm speaking mostly of paper and embellishments) Apparently you can use this glue as "permanent" or "removable". I have not tried to use it as "removable" yet but "permanent" definitely works! lol

I have also recently tried the Tombow Mono Aqua Liquid Glue and it's basically the same thing but goes on clear and dries clear. The main differences I can tell so far is that it takes the Aqua longer to dry (which is bad if you're impatient but good if you need to reposition). Also, the Aqua is not quite so sticky as the Multi so which one you use will be up to your personal preference.

As I said in my Fab Five post, I was not into using glue, especially on my layouts until I tried this brand. If you have it hanging around and haven't tried it yet, give it a go! I love using it especially on chipboard, on papers that don't hold tape well (like my fave glitter cardstock) and alphas that aren't already sticky (much quicker than cutting teeny tiny pieces of tape!).

Thanks for visiting my blog, leaving your fabulous comments and asking questions. Have a great rest of your weekend and check back soon because I'm working on a layout of Toot that is very Bond, Baby Bond...