How fun!
2 Scrappy Chix Designs
is currently hosting a
"Make The Most Of Your Stash"
challenge from now until April 4th. Every week they'll post a new challenge and the only "rule" is that everything you use has to be from your stash, nothing new allowed! There's big prizes involved so come join us!
This challenge has really inspired me: I readily admit that I
LOVE
buying craft stuff. I hunt out the stuff that's 50% off or on clearance normally which usually means I buy twice as much since I'm saving "so much money". As much as I love buying new toys to scraps with, I have to say I'm starting to feel like I ate too much birthday cake. It's sooo good but I'm getting a stomach ache, you know what I mean? So it's time to use my stash instead of just adding to it!
Therefore, I have resolved that I will not buy any new scrapping what-nots until I've made a sizable dent in my current stash. I will keep track of the days I haven't shopped at the top of my blog here. I have to say that I am excited to see how long I can hold out and how much I can create with what I have in that time! Now, I did just join a kit club (my first one ever) so that's a commitment I can't break. I've also already signed up for 2 classes at my local scrapbook store but other than those things, I will buy nothing else. No adhesive, no paper, no chipboard, no *gulp* Stickles...nothing, nada, zip!
So since the last time I bought something was this past Saturday, February 28th, my total days come to
3
. If you'd like to join me, please comment and let me know! Maybe we can have a support line going! lol
In other news, here's my latest layout (using my stash thank you very much!):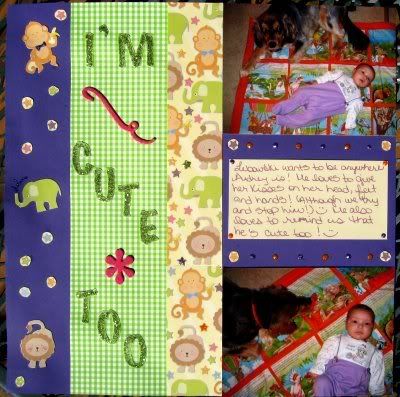 Our dog Lebowski is always trying to love on Toot or, at the very least, horn in on everything we do! This time I was trying to take pictures of her and we ended up with him refusing to move until I included him in the pictures! lol I was trying to do a Toot layout with some different colors (than my usual all pink!).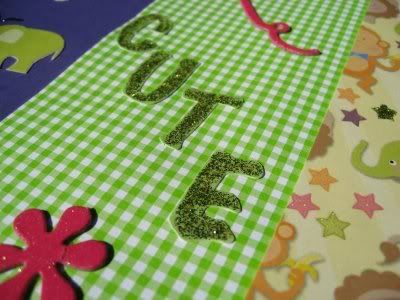 I cut out some of the animals in the paper and accented them each with Stickles. I also Stickled random stars on the paper and used Lime Stickles on the title to bring it out from the background more. Thanks for looking and have a great day everyone!