First,
mega giveaways
! Danielle over at
Life, One Layout at a Time
is giving away a personal Cricut to the 20,000th visitor. She's also giving away a TON of fun stuff to people that leave comments. She's a fabulous lady and sweet as all get out so go visit her blog! You'll enjoy your visit and maybe win something C-O-O-L! Don't forget to say you heard it from me, Katamommy, when you leave your comments!
Also, a new kit and forum site has hit the web and let me tell you, it's fabulous! So go right now (after reading my engaging post of course) and check out
Vintage Plum
!
************************************************************************************
So here we go, I made a couple more cards last night. I think I'm going to use these as tags for presents:
I covered the star and star box chipboard with some patterned paper and filled in the opening with Black Diamond Stickles. I distressed the edge of the star box and cutout with Charcoal Colorbox Fluid Chalk. I wrote "Super Star" on the card with (ironically) Star Dust Stickles.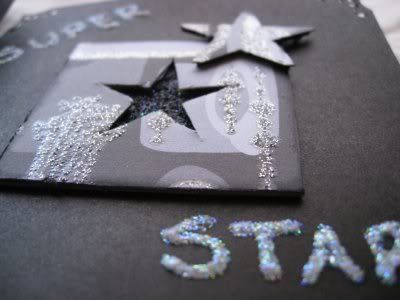 For this one, I drew a line down the card with Black Diamond Stickles and cut out the pattern on a different paper for the circles. The star was made with my Fiskars star punch. I used my Fiskars Lace corner punch on both cards.
Keep on rolling!