Hello everyone and welcome to this week's Friday Night Fab Five where I list 5 things I'm currently digging, loving or obsessing about...normally.
This week however is a little different because we're going to look at things I've seen this week that I've found disturbing, frightening, irritating or just maybe not so fab. Of course, this is all done with humor so if one of these is your favorites this week....uh, don't read what follows. :D
1. Locked Up Abroad
For those unfamiliar, "Locked Up Abroad" is a show on the National Geographic Channel (or "Nat Geo" as they like to be called) It focuses on true stories of real people traveling to different countries and landing in that country's prison system, typically after trying to smuggle drugs and then getting caught. Most of these people decide to smuggle drugs after becoming stranded in another country without money to get home and see it as an easy way (in theory) to make the money and/or airfare. If this show has taught me anything (other than to just stay home) it's this: Never ever agree to tape anything to your legs, swallow balloons filled with Lord knows what or stick anything up your butt to get home. Just suck it up and call your dad.
2. This Couple from the eHarmony Commercials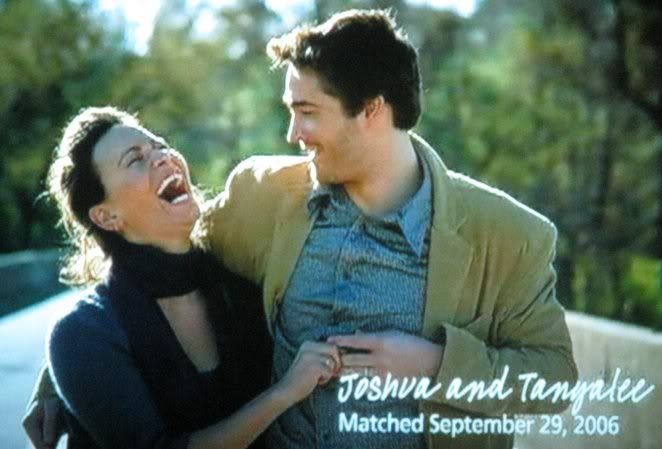 As if ruining the song "This Will Be (An Everlasting Love)" wasn't bad enough, eHarmony decides to torture me further by showing Mr and Mrs Perfect every other 5 minutes. Listen, I'm sure these are the nicest people you'll ever meet. But there's only so much of this I can take: "Oh look at us, we're so pretty...We totally painted on a canvas on our first date because we're so cool...We opened an artsy fartsy store together because we're so great..I love layering my clothes and being so awesome...I didn't want anyone to know I had eHarmony finding a man for me...teeheehee" Pffffttttttt. :P Actually, all of the eHarmony couples are sickly sweet in their own blech inducing way. That being said, kudos to people finding love online. It worked for me! :D
3. Your Baby Can Read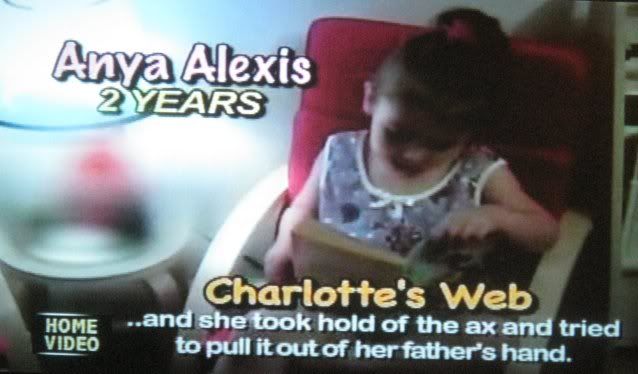 Since we're subsisting on PBS Sprout lately, I've seen these freakin' "Your Baby Can Read" commercials so many times I can recite them by heart. Developed by Dr. Robert Titzer (funniest last name ever and yes, I am that immature), this is a system to teach your baby to read. Listen, I am ALL for developing and nurturing children. And if this is something that you love doing with your children, I think that's awesome! But one day I noticed that everything these kids were reading was something totally NOT age appropriate. It wouldn't be so bad except that the commercials ALWAYS show these kids reading the worst possible part of the book like this one reading about how Wilbur almost got killed in Charlotte's Web. There's also the 5 year old reading about how many men died in the Civil War and the 3 or 4 year old (I forget) reading "A Christmas Carol". Holy crap people. If teaching Toot to read now means I'll have to give her "War and Peace", I'll keep her illiterate for now, thank you very much. Also, this system costs like $400 so there you go.
4. Charles Manson Wants Me To Go To College
So yeah, there are these spammy "click here!" type ads ALL over the internet wanting moms to go back to school and during one of my jaunts around I saw this one. Now, the ad itself isn't that bad but what the what is up with this creepy Manson Jr picture? Yikes. I'll stay stupid, thanks.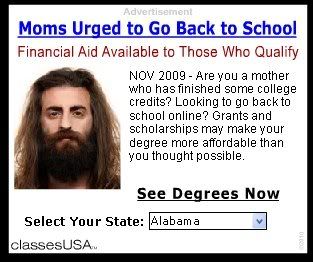 5. Pee-Wee Gets an iPad
Actually, this is totally fabulous. I love love love Pee-Wee Herman and this video of him with his new iPad is awesome. The man's still got it!
And there you have it! My week of what the?! plus one has now come to a close.
Anything you've spied with your little eye that doesn't quite make sense this week? Do share!