Toot is now 6 months old and I'm finally trying some baby food out on her! I've been giving her cereal for the past couple of days and last night we tried peas. She took a few spoonfuls (not enjoying it at all by the way) and then proceeded to gag and throw it all up. Peas-1 Toot-0
So today, being a new day and all, I tried to think positively that she would wake up loving peas. I went for the spoon, she took one bite and then...well, let's just say I'm think I'm going to have to try peas again later. (Notice how the bib says, "Priceless") Peas-2 Toot-0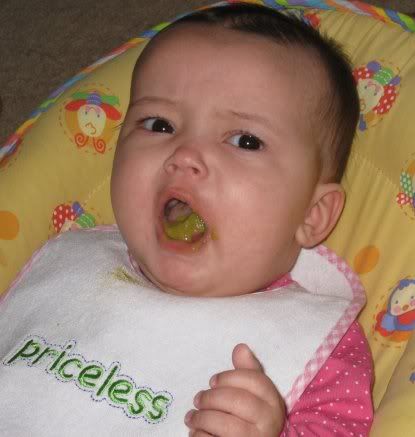 It got so bad that when I gave up and went to give her cereal, she wouldn't open her mouth and had a look on her face that I can only describe as distrustful. LOL Oh well, I'll win her over with sweet potatoes this weekend!
I have another layout to share that I made using the LPS April Featured Kit. I felt like it needed something so I finally added the safety pins.
Have a great Thursday everyone! If you haven't yet, check out the new show on NBC, Parks and Recreation. I love Amy Poehler and mockumentaries and the pilot last week was great!