Fruit of the Spirit is the current subject over at
Scripture Scrappers
. Here is the cover page I made for my album last week.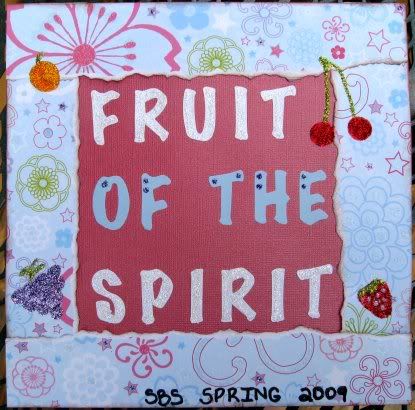 I experimented with some paper tearing and drew all of the fruit on with Stickles...I love Stickles....

Speaking of love, that was this week's lesson. I zeroed in right away on the "Love is..." passage of scripture in 1 Corinthians. This verse speaks to me because most of the time I am all the things Love is not, especially to the people I care about most. I am often impatient, rude and easy to anger.

Even now as I write this blog post, my husband is speaking to me and all I can think is, "Hello? Can't you see I'm doing something here?" LOL Ah well, this layout will serve as a reminder for me that true Love is deciding that what you're involved in is not as important who you're involved in.

The picture is one of my bridal portraits where I was holding my (soon to be) husband's wedding band in my hand behind my back. I wrote part of 1 Corinthians 13 around the edge of the paper and painted some chipboard letters white and then covered them in Star Dust Stickles.

In thinking about what kind of layout I would make for this week's lesson, how it would show how God loves me and what that meant I thought of this: I usually think I'm too dumb, too lazy, too angry, too fat, too bitter, too ugly to be worth much. I've read these verses a hundred times, heard lessons on them, read books about them and still never captured them as Truth for myself. Once I met and married my husband, I tried to hide these feelings from him so he wouldn't think I was a crazy nut and of course, like anything and everything in our lives, I could not hide it for long.

He took my hand and looked me in the eyes and said simply, "You are not perfect, but you are perfect to me. I don't always like what you do but that doesn't change the fact that I love you more everyday." So it hit me today reading these verses for the hundredth and one time that my husband's love can only be a mere ripple in the vast pool that is God's love for me. I can only assume and hope with childlike faith that this is why God blessed me with such a man. Someone who reflects a small ounce of the infinite love God has for me. A daily, tangible reminder of Someone who loves me patiently, fervently and wholeheartedly.

I always see the positive for other people. I love, more than anything, to put a smile on someone's face and encourage them to be and do everything they can, I think in some small part because I can't believe it for myself and it helps me cope. My hope is by writing this as honestly and up front as I can that it might help someone else out there know that they're not the only one. In this world of millions and millions of people, there is never ever an "only one".